UK records hottest night ever
The UK recorded its provisionally warmest night ever from Monday into Tuesday.
The mercury never got below 25C in places, the Met Office said this morning. That beats the previous night-time high of 23.9C in Brighton in August 1990.
Key events:
A picture of a Queen's Guard sentry being given a sip of water outside Buckingham Palace is the defining image on Tuesday's newspaper front pages, as the heat wave puts the climate crisis in fresh focus.
All but a couple of the front pages feature the picture of the guardsman in his bearskin hat taking much-needed relief from the heat. which on Monday topped 37.4 degrees in west London and a nationwide high of 38.1C in Santon Downham in Suffolk.
The prospect of an even hotter day on Tuesday provides a flurry of warnings on the front pages.
"Record highs, travel chaos, schools close … and it's going to get hotter", says the Telegraph with a large image of the sentry from the Irish Guards on the front. A second story on the front carries comments from Prince Charles that the record-breaking heat had proved him right on the climate change "emergency".
You can read the full roundup here:
UK records warmest night ever on Monday
There's more from PA on the UK's warmest night on record:
UK experienced its warmest night on record on Monday as the extreme heat saw temperatures remaining in the mid-20s.
It comes as a high of 40C is predicted for Tuesday, amid growing travel chaos.
Transport Secretary Grant Shapps has conceded the UK's transport network cannot cope with the extreme heat.
As the heatwave continues, Shapps told people to "apply common sense" and "depending on the nature of your journey and reason for it, you might want to consider rearranging your day around it".
He told BBC Breakfast:
We've seen a considerable amount of travel disruption. We're probably going to see the hottest day ever recorded in the UK today, and infrastructure, much of it built in Victorian times, just wasn't built to withstand this type of temperature – and it will be many years before we can replace it. infrastructure with the kind of infrastructure that could, because the temperatures are so extreme.
Asked if the transport system can cope with the weather, he said:
The simple answer at the moment is no.

Where those tracks are 40 degrees in the air, on the ground that could be 50, 60, 70 and more, so you get a severe danger of tracks buckling. What we can't have is trains running over those and a terrible derailing.

We've got to be very cautious and conscious of that, which is why there's reduced speeds on large parts of the network.
YouGov has polled people about whether they've changed their plans for Monday and Tuesday due to the hot weather – nearly a third say they have, rising to 39% in London, where some of the hottest temperatures will be seen, to 18% in Scotland, where it's a little cooler.
The Met Office has also asked commenters on Twitter whether they're adapting their plans – answers range from a delivery driver exasperated with customers telling her she's lucky to have aircon in her van (she doesn't), to those who've experimented. with putting tinfoil on their windows to block out the sun, to someone who went paddle-boarding after work and another who claims to have run a half marathon in the morning…
One other commenter shared this delightful image of moving their alpacas to an area with more shade:
Rachel Hall here taking over from Fran Lawther for the rest of the day – please do send over your stories or news from your local area to rachel.hall@theguardian.com.
UK records hottest night ever
The UK recorded its provisionally warmest night ever from Monday into Tuesday.
The mercury never got below 25C in places, the Met Office said this morning. That beats the previous night-time high of 23.9C in Brighton in August 1990.
The ambulance service in London reported a slight increase in 999 calls for fainting and heat exposure on Monday.
Brian Jordan, director of 999 operations for London ambulance service, told BBC Radio 4 the service received 6,600 emergency calls yesterday, slightly lower than predicted.
"We really hope that's because the public really have been listening to the messages about how they can look after themselves and only call 999 if it's a genuine emergency," Jordan said.
"People have been through a very long day yesterday and there's been high temperatures overnight, and with the even hotter temperatures today I cannot really emphasize enough that people need to continue to do what we were asking them yesterday – to avoid prolonged exposure to the sun. , keep hydrated, look after more vulnerable friends, families, neighbors and use sun cream etc."
For tips on how to deal with the temperatures, my colleague Nicola Davis has this guide to keeping cool:
The Met Office tweeted this graphic to give details of what to expect on Tuesday:
The hot weather has sparked health warnings as there is a higher risk of heat exhaustion and heat stroke, dehydration as well as breathing problems due to high pollution.
People have been urged to stay inside during the hottest part of the day – between 11am and 4pm – and wear sun cream, a hat, stay in the shade and keep hydrated with water.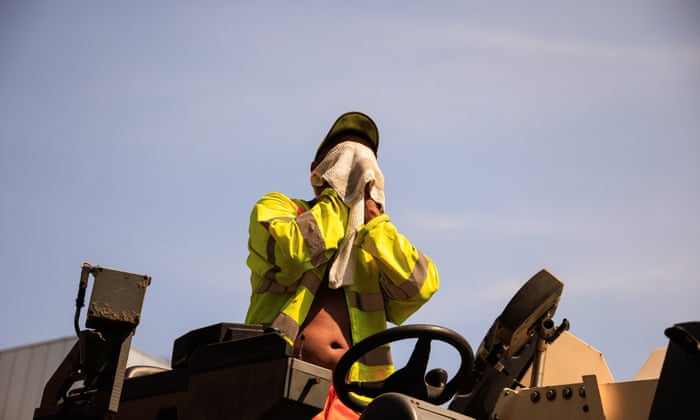 There were warnings about swimming in lakes, rivers and reservoirs after three people died in waters in England and a fourth was missing believed drowned.
There is a higher risk of wildfires, with people asked not to use barbecues or leave litter that could spark fires in the countryside – while zoos and wildlife parks were closed to protect animals, staff and visitors.
Water companies have been experiencing "unprecedented peak demand", with people encouraged to "carefully consider" their water usage and urged not to waste it.
The UK transport secretary, Grant Shapps, was on Sky News this morning to say issues on the rails and roads will continue for decades during extreme heatwaves.
Asked how long it will take to upgrade existing rail infrastructure to be more resilient, Shapps said: "Decades, actually, to replace it all. Ditto with Tarmac on the roads.
"There's a long process of replacing it and upgrading it to withstand temperatures, either very hot or sometimes much colder than we've been used to, and these are the impacts of global warming."
He said there was no Cobra meeting planned for Tuesday, with the prime minister instead chairing the cabinet.
Boris Johnson was accused on Monday of having "checked out", missing an emergency Cobra meeting about the searing heat. He instead attended the Farnborough airshow, where he gave a whimsical speech about completing a loop and a barrel roll in a Typhoon fighter jet.
On Tuesday, Shapps denied Johnson was "checked out". He said: "It's literally not true, in fact exactly the opposite is the truth."
'Unprecedented' day ahead as UK temperatures could hit 41C
Good morning and welcome to our extreme weather blog.
The UK is bracing itself for the hottest day on record on Tuesday, as forecasters said temperatures could reach 41C.
The mercury is set to rise higher than on Monday – already the hottest day of the year at 38.1C (in Santon Downham, Suffolk), although slightly short of the all-time UK heat record of 38.7C. That was set in Cambridge in July 2019 but could be broken today.
Rachel Ayers, from the Met Office, told PA Media that Tuesday was going to be "unprecedented". She said: "The temperature will be very hot throughout the day, before rising as high as 40C, maybe even 41C in isolated spots across England during the afternoon.
"This will make it the hottest day on record and the first time we have seen temperatures as high as 40C."
Scotland and Wales could also have their hottest days on record. Holyrood minister Keith Brown urged people "to think about whether they need to travel and, if they do, make sure they're properly equipped and plan their journey in advance".
Travel routes will be affected by the heat and National Rail told customers only to travel if absolutely necessary. The operator said: "There will be delays, cancellations and last-minute changes to train services due to the unprecedented record heat on those days."
There will be no Thameslink or Great Northern trains running anywhere north of London, from London Blackfriars via St Pancras, or from London King's Cross or London Moorgate on Tuesday.
Merseyrail said the number of trains running and journey times will be "seriously affected", with some routes closed completely. LNER will run no trains from south of York and south of Leeds to London King's Cross.
Southern, South Eastern, South Western Railway and Great Western Railway are among the dozens of train companies running significantly reduced services across the country.
Transport for London (TfL) said London's rail network would also be running a reduced service on Tuesday due to safety restrictions put in place to deal with the heat.
My name is Fran Lawther and I'll be keeping you up to date with the latest weather news, analysis and tips on how to deal with the heat. Please get in touch with any updates from your local area. You can email me at fran.lawther@theguardian.com.